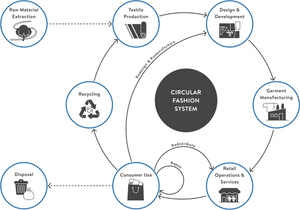 Acknowledging the ecosystem through fashion.

The fashion industry known to be the third largest industry in the world, has steadily become an internationally and highly globalized industry. The industry is devoted to the business of making and selling apparels, bags and accessories which encompasses the design, manufacturing, distribution, marketing, retailing and promotion. With rapid growth, retailers began to produce trendy-cheap priced clothes, poorly made on a weekly basis, intending to match the breakneck pace at which fashion trends move. Thus resulting in increasing mass production of clothing in standard sizes sold at non-negotiable prices and a quick turnover that mainly encourages repurchase. The fast fashion market is becoming popular and escalating which aggravates the throwaway culture phenomenon.
Amidst the bustling industry, a new commitment has emerged, stake holders, policy makers and brand consumers have gradually started aiming consciously to achieve a carbon neutral fashion sector based on equality, social justice, animal welfare and ecological integrity known as slow fashion which is a component of Sustainable fashion. It refers to fabrics derived from eco-friendly resources like sustainably grown fiber crops or even recycled materials which plays a vital role in developing ethical fashion and targets conservation and restoration for a greater environment and a better way of living. It promotes honesty and transparency in its practices. The working industry considers the impact on workers across the supply chain, and make sure that the brand addresses energy usage, offset of carbon dioxide emissions and also focuses importantly on natural textiles, usage of resources efficiently with an addition of eco-friendly practices such as low water usage, zero toxic waste and prioritization of minimal waste.
Sustainable shopping is no longer a choice but an inevitable change that will definitely shape the upcoming years in some kind of way. The fashion ecosystems are diverse, just as nature is. Understanding the ecosystem, one needs to know the underlying principles as well as the interactions between organisms and the environment.  Most of our clothing's fibers are produced by conventional agriculture and takes what it needs from the earth at any cost. Propelled by industrial logic, it prioritizes efficiency over diversity. Clothes express our identity, culture and values and fashion adds style to our identification. They connect us to our place in the biosphere. Our motive is to celebrate, build trust and respect everyone in the fashion ecosystem; to create an environment for diversity and plurality to the fashion ecosystems that all our cultures, voice and lands are represented in material, process and form so we are all an authentic part of the ecosystem.  
Sustainable fashion has the potential to stay in the industry for a long period of time. It is a crucial step in addressing the severe impact of fast fashion environment. A person with high personal norms may be motivated by an inner desire to act pro-environmentally, where as those with low personal norms might hinder the behavior. A study revealed that moral obligation had a favorable and substantial effect on purchase intentions of organic, fair-trade and recycled clothing products. Sustainable fashion has decidedly become mainstream, despite having less disposable income, millennial are most likely willing to spend more on sustainable, environmentally conscious, up cycled clothing and ethical fashion brands. It is very important to understand the factors that influence sustainable fashion consumption and the clothing disposal pattern among the young consumers in developing countries
Embracing the slow fashion concept is a definite plus for the environment and a positive step in the battle against climate change. With more and more brands seeing the importance of an environmental focus, dressing sustainably no longer means compromising !
---