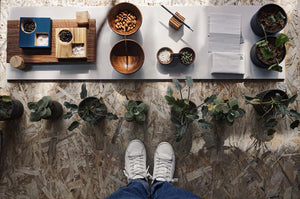 FIRST LITTLE KNOCK TOWARDS SLOW FASHION
Nobody's going to change the world by themselves, but if each person starts to make small changes, it turns into a revolution. The situation is not that good! Fashion is currently the second largest polluter of the planet after oil. I think it's time for people to act in their own lives. And we could all make little changes; no one must be perfect; there's no time that's too late, so, start now!
 Other slow fashion pioneers explain the movement as follows: 
Slow fashion is the movement of designing, creating, and buying garments for quality and longevity. It encourages slower production schedules, fair wages, lower carbon footprints, and (ideally) zero waste. — Study NY
Slow fashion represents all things "eco," "ethical," and "green" in one unified movement… the 'slow approach' intervenes as a revolutionary process in the contemporary world because it encourages taking time to ensure quality production, to give value to the product, and contemplate the connection with the environment. — Slow Factory
Slow fashion is about consuming and creating fashion consciously and with integrity. It connects social and environmental awareness and responsibility with the pleasure of wearing beautiful, well-made, and lasting clothing (as compared to the immediate gratification of fast Fashion). — Kat Collings, Editor in Chief at Who What Wear
If you were to Google slow fashion on the internet, a common definition you would find is that slow fashion is the reaction to fast fashion. You don't have to give up your glamour or style to be sustainable. There are things that have already been bought, that we can continue to enjoy in a healthy way; don't buy less necessarily- buy smarter; you learn or collect it slowly and patiently, and perhaps indirectly. It's thoughtful, intentional, and holistic. It's also an argument for hitting the brakes on excessive production, overcomplicated supply chains, and mindless consumption. 
The term was coined by Kate Fletcher, professor of Sustainability, Design, and Fashion at the University of the Arts London's Centre for Sustainable Fashion. So, it means less but better, higher-quality pieces, and smaller closets, and consuming your clothes a lot slower. You might also read that slow fashion, focus on paying workers ethically and making products that will last whether it's from a construction perspective or the design perspective. In our opinion, slow fashion is a mindset. Slow fashion is changing your thought process in every step of how you dress, how you shop, and how you discard clothing; you're being more mindful and intentional. So for example, just the way that you interact with your closet daily, how creative you are with it, how versatile you are with your pieces, and then once you bring the product home and make a purchase -slow fashion still plays a role; it's about how do you care and maintain the product. And finally, when it comes to discarding the product or the garment; What do you do with it? How do you dispose of the pieces? What you do think?
It is important to mention that slow fashion is often used in the same sphere and space as ethical fashion and minimalism and eco-friendly fashion. They belong together. For example. You could buy a pair of pants made ethically out of recycled materials in a Fair-trade factory, but slow fashion isn't necessarily just about buying eco-friendly pants, it's about questioning yourself, do you need them? Do they suit you? Will they work for you? Those pants might be ethically made and eco-friendly, but later if you take them home only to sit in your closet and you realize that you don't need them and that you discard them within a year. That's not necessarily a slow fashion. So, hopefully, those examples explain the term.
SLOW FASHION MISTAKES AND HOW TO AVOID THEM. 
 1. OVERDOING IT WHEN THRIFTING
Thrifting is a good option to start engaging in slow fashion because you are continuing the cycle of a product; you're reducing your environmental impact; It's wonderful. However, it's inexpensive. Everything is wonderful about it. It's easy to get kind of lost in all this awesomeness. But you come home with 12 new garments that you didn't actually need; they don't end up being used as much; you might find that it was actually more of a wasteful shopping trip than a productive one .Don't buy less necessarily, buy smarter. It's not about being perfect. It's about being better. Do less harm, do better. Shop with a list (if possible).
 2. BLINDED BY "SUSTAINABILITY"
Being blinded by Eco-friendliness and sustainability is essential while shopping or buying a product. If it's eco-friendly or sustainable and you feel like you're doing good for the planet, it's all awesome until you buy a pair of jeans which does not flatter your body type or doesn't go with your personal style, therefore to avoid that as well maybe narrow down your outfit formula into:
Silhouette

: shapes and lines that flatter you and that you like.

Colour

: a colour that fits your wardrobe palette and your skin & hair.

Texture/fabric

: a fabric or texture that is comfortable and appeals to you.
When you support the sustainable fashion movement and want do it perfectly, which is indeed overwhelming, and you find the perfect dress on a second-hand clothing website, and remember that it will be shipped to you and you couldn't make sure the packaging would be sustainable.
It is okay to choose your battles. Focus on the ways you can be sustainable. As Anne-Marie Bonneau said: "we don't need a handful of people doing zero waste perfectly. We need millions of people doing it imperfectly."
3.YOU HAVEN'T FIGURED OUT YOUR PERSONAL STYLE YET.
Arguably one of the biggest personal benefits of adopting slow fashion. Doing it successfully requires having a detailed, well-rounded understanding of your personal style. This doesn't mean you have to be a fashion icon – it's as simple as knowing what you like and what you don't like when it comes to clothing.
How to fix it: Pay attention to your favourite pieces of clothing and try to pinpoint exactly what it is you love about them. The colour? The cut and shape? The silhouette? The detailing? The way it makes you feel. Once you know what you love, you can make smarter decisions when buying any more clothes down the road.
Bonus Slow Fashion Tip: Take care of your clothes!
Even the highest quality clothes cannot last long if you're not taking care of it. So, make sure you're hanging up or folding your clothes instead of tossing them on the floor. Make sure you're washing it according to the label's instructions. If you know you're going out for some messy food, maybe don't wear that white top. Treat stains as soon as possible. They're simple things that often require just an extra 2 seconds of consideration but make a huge difference in the long run.
By Minah 
---